Adult Treatment Improve Your Smile At Any Age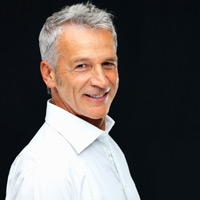 ---
Dr. Dave and the TIO team specialize in treating patients of all ages in the Cypress and Tomball, Texas communities. From straightening teeth to whitening treatments and jaw surgery, our office has the tools and technology to make your orthodontic experience pleasant and rewarding. Adult treatment is becoming more common every year, and for good reason! Creating a beautiful, healthy smile can have a significant impact on your life, and success is virtually guaranteed. Let's explore some of the ways True Image Ortho can help you.
Benefits Of Straight Teeth
Most people think of braces as something used only by teenagers to straighten crooked teeth, and while this is certainly true, we can do so much more. A surprising number of adults feel self conscious about some aspect of their smile and wish to "polish" the look of their teeth. More importantly, a poor bite profile can make things like eating and speaking more difficult.
Whether you're looking for a cosmetic improvement, relief of pain and sensitivity, a healthy bite, or all three, a consultation with Dr. Chen could change your life. Because adults are typically better at following instructions and taking care of appliances, you're also likely to see better results in less time compared to a teen undergoing similar treatment!
Keeping Your Treatment Discreet
One of the main concerns of patients in Cypress and across the United States is the obvious look of traditional braces. Dr. Dave will work with you to determine your best options, which for many patients include clear braces or the Invisalign System. You may be able to improve your smile without telling anyone!
Jaw Surgery for TMJ/TMD
Our office can help with more than just a pretty smile. If you or a loved one is suffering from TMJ/TMD or another condition causing discomfort of the jaw, rest assured that True Image Ortho can help you control pain and prevent bone loss and irregular wear of tooth enamel. The longer these issued go untreated, the more complex the final treatments become. An early diagnosis and proactive care can help you improve your quality of life more easily.
Schedule A Free Orthodontic Consultation
Take the first step today, schedule a free consultation with Dr. Dave Chen and find out what True Image Orthodontics can do for you. From a minor misalignment to a full smile makeover, the TIO team is committed to helping you achieve a strong, gorgeous smile that you'll be proud to show off.

Our Location
11510 Barker Cypress Rd., Suite 500, Cypress, TX 77433
Call / Text: 281-225-6784
Email us: info@trueimageortho.com
EMERGENCY LINE (After hours)
Call / Text: 346-285-0227
Get Directions