Before and After Photos Begin Your Orthodontic Treatment In Cypress, TX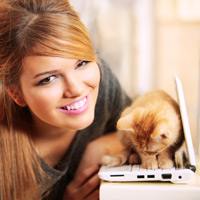 The photos in this animation are not actual patients of this practice. Results may vary in individual cases.
Orthodontic treatment can truly transform smiles and people's lives. Our staff treats mild to severe cases on a daily basis.
These are some examples of orthodontic problems we can correct.
Case 1 – Crowding

In this patient's case, the "eye" teeth are up higher than normal and the upper jaw has crowding.

Case 2 – Overlap

This patient's upper jaw has spacing and front teeth overlap severely.

Case 3 – Openbite

This patient's front teeth do not touch normally, forming an openbite.

Case 4 – Spacing

In this case, there is a spacing problem in the upper jaw.

Case 5 – Overbite

The patient's upper front teeth extend out over the lower front teeth, forming an overbite.

Case 6 – Underbite

In this case, the upper teeth are inside the lower teeth, which is also known as an underbite.
Visit With Our Orthodontist & Schedule Your Exam Today!
If you're ready to see the orthodontist, Dr. Dave, you can schedule an appointment at your convenience. If you have more questions about your first visit, your current treatment, or general orthodontic info, give us a call or email and we'll be happy to help you out. On behalf of our Cypress office, we wish you the best and hope to see your smile soon!

Our Location
11510 Barker Cypress Rd., Suite 500, Cypress, TX 77433
Call / Text: 281-225-6784
Email us: info@trueimageortho.com
EMERGENCY LINE (After hours)
Call / Text: 346-285-0227
Get Directions