Because our Cypress, TX orthodontist, Dr. David Chen, knows that every person is unique, True Image Orthodontics provides each of our patients with the individual treatment and attention they deserve. Among the several types of braces we offer, the innovative Invisalign System is an aesthetically pleasing option for adults straightening their teeth.

What is Invisalign?
Invisalign consists of a series of clear, removable aligners that have been generated by computer simulation to gradually move teeth. Because the aligners are removable, they can be conveniently taken out when eating and when brushing & flossing. There are no metal brackets or wires used with Invisalign which means there is nothing present which will irritate or poke the inside of your mouth.
As an Invisalign patient, you will be given a series of clear, smooth, removable aligners that have been finely calibrated just for you. Each aligner is worn for about two weeks and is only to be taken out when eating or cleaning your teeth. As you replace each aligner with the next in the series, your teeth will begin to gradually move week by week until the final alignment is attained.
Invisalign Won't Interfere with Your Lifestyle
When you're wearing Invisalign, you won't be inconvenienced by having to watch what you eat as there are no food restrictions to worry about. This means you can continue enjoying all your favorite foods as you simply take the aligners out when eating and then pop them back in when done. And, because you can take the aligners out to brush and floss your teeth, you will be able to easily and conveniently maintain good oral hygiene throughout your treatment process.
Low-Profile Way to Improve Your Smile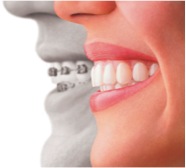 A growing number of adults we see at our Cypress & Tomball, TX orthodontist office choose to wear Invisalign because this treatment option is nearly invisible to onlookers. In fact, most people won't even notice that you're having your teeth straightened when you're wearing Invisalign, as the clear aligners are virtually non-detectable. This means you can smile with complete confidence throughout your treatment knowing that people are focusing on you and not on a mouthful of metal braces.
Great Results for a Variety of Dental Problems
Invisalign offers patients the opportunity to treat a variety of cosmetic and dental problems in a convenient, clear way that leads to great results. Whether you have a mild case of crooked teeth, protruding teeth, teeth which are widely gapped, overly crowded or somewhere in between, Invisalign could be the ideal treatment option for you!
We are a leading Cypress, TX Invisalign provider that understands that many adults do not wish to wear metal braces which are most often associated with teenagers. To find out if you're a candidate for Invisalign, please fill out and submit the Appointment Request Form on our website or contact us at 281-225-6784. We look forward to seeing you soon!