Phase II and Adolescent Treatment Giving Your Teenager A Beautiful Smile For Life!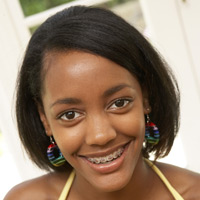 ---
Parents work hard every day to make sure their kids grow up healthy and happy, and one of the most important ways to do this, is protecting their teeth, jaw. Not only does orthodontic care help create a beautiful smile, it can make biting, chewing, and even talking easier, and promotes total oral health.
Treatment is sometimes separated into two separate phases, the first stage, called early or interceptive care, usually occurs at a younger age when baby teeth are still present. The second, more common, typically begins between the ages of 11 and 15, after all permanent teeth have erupted. Learn more about Phase II treatment below, or easily schedule an appointment for your child to see Dr. Dave and determine the right treatment for you!
When Should You Begin Phase II Treatment?
We recommend that your child receive their first exam around age seven, when Dr. Chen will be able to assess their early needs, and help you plan for their future care. We know that this is not always possible, and are fully prepared to diagnose and treat orthodontic related issues at any age, including adults! There is no "wrong" time for an exam, especially if you feel that you may be experiencing any of the most common orthodontic problems.
Beginning treatment early has several advantages:
Avoid the negative associations sometimes related to braces, which often appear in the later teenage years.
Any evidence of bad bites, like gaps between teeth, can be easily detected but likely have not yet made a strong impact on oral health.
Teeth and gums, along with the rest of a child's body, are growing rapidly at this age, and can often be adjusted more easily when care begins early.
Children who undergo both Phase I and II care generally have longer lasting results. By addressing problems as soon as possible, Dr. Dave and his team can help your child achieve a healthy, beautiful smile for life!
What Kind Of Orthodontic Gear Is Right For You?
Dr. Dave will spend time with you and your child to determine the treatment plan that best meets your individual needs. Let's take a quick look at some of the most popular:
Metal Braces – The most common and well-known treatment are traditional metal braces. The familiar metal brackets have become smaller and more comfortable in recent years, giving reliable and beautiful results!
Empower Braces – Similar to traditional braces, the Empower brackets are created from a special ceramic material that allows them to be clear! These self-ligating braces are on the forefront of orthodontic technology!
Invisalign – Another popular choice for many patients is the Invisalign System, comprised of completely removable, tray-style aligners. Invisalign, as it sounds, is nearly invisible, and allows the wearer to eat foods that would normally have to be avoided.
Get more details about the types of braces available at True Image Orthodontics, and be sure to let Dr. Dave know if you have any questions!
Get Your Teen Started Today!
If you're looking for a great way to improve your child's long-term health and give them a gorgeous smile in the process, now is the time to team up with True Image Orthodontics! Schedule an appointment today, and find out how easy it is to get started. We look forward to seeing you smile!

Our Location
11510 Barker Cypress Rd., Suite 500, Cypress, TX 77433
Call / Text: 281-225-6784
Email us: info@trueimageortho.com
EMERGENCY LINE (After hours)
Call / Text: 346-285-0227
Get Directions